Drain the swamp quick!!!Drain the swamp quick!!!!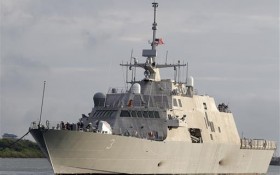 ONE-THIRD of all Navy brass caught in huge foreign bribery scandal
"On the Holmes Front, with Frank Holmes"
Hundreds of military officials – including some of the highest-ranking brass in the Navy – are accused of helping a shadowy Asian merchant fleece Uncle Sam for tens of millions of dollars… and you probably haven't heard a peep about it.
It's called the "Fat Leonard" scandal, and the investigation into bribes and corruption one of the biggest in U.S. military history. The Navy has investigated 440 people, including 60 admirals, for possibly taking bribes in exchange for phony government contracts and sweetheart deals.
Sponsored: The #1 cancer-growing holiday food – you're STILL eating
That means the Navy suspects that up to one-third of all its admirals were on-the-take from a foreign agent.
"Fat Leonard" is Leonard Glenn Francis – a 6'3", 360-pound Malaysian businessman who makes his money servicing naval vessels in the Pacific.
He bribed the Navy's elite with the finer things in life that only a crooked businessman could provide: Money, the finest liquor, luxurious trips for their families.